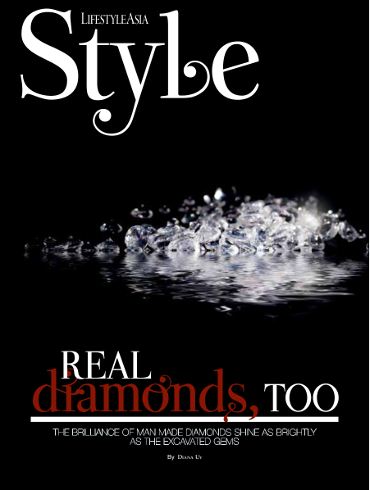 Cultured diamonds are real diamonds. Thomas Florencio, owner of Golcondia boutique in Shangri-La Plaza Mall East Wing, spends a lot of his time explaining to at least 10 customers each day that cultured diamonds are as authentic as the ones found underground. "It can sometimes be frustrating," says Florencio.
A third generation jeweler, Florencio says that cultured diamonds contain the same chemical, optical, and physical properties similar to diamonds mined from the earth. He adds that the Federal Trade Commission (FTC) of the United States classifies lab-grown diamonds as real diamonds. The only difference between the two is the source. More important, clients are assured that labgrown diamonds are conflict-free and environmentally friendly.
DIAMONDS IN THE ROUGH
One of the biggest misconceptions about diamonds is that it took millions of years to form. Truth is it took millions of years before man discovered diamonds. Experts believe that given the tremendous pressure and heat found near the Earth's core, it would only take an instant for diamonds to form. Meanwhile, it takes 10 to 16 weeks to grow a rough diamond in a laboratory setting.
"The direct analogy on how cultured diamonds are made is taken from the concept of a greenhouse wherein we create the environment that replicates nature's conditions for which to grow pure carbon atoms into strong bonds, resulting in diamonds. These are not mass produced and we celebrate nature's miracle with each harvest," says Florencio.
Breakthroughs in combining highpressure high temperature (HPHT) and chemical vapor deposition (CVD) processes make it possible to create rough diamonds. When cultured diamonds are mixed with mined diamonds, you would never be able to tell them apart, says Florencio. The only way to know the difference is to send them to certifying bodies like Gemological Institute of America, HRD Antwerp, and International Gemological Institute (IGI).
CREATING THE PERFECT DIAMOND
The principle of cultured diamonds has been in existence long before Florencio and his peers started marketing it. General Electric (GE) actually created the first cultured diamond. Given the technology back in the 50s, these first generation cultured diamonds were of industrial quality. Scientists have since perfected the process of growing gem quality diamonds.
Today, there are four greenhouse facilities in the world for cultured diamonds. There is one in Singapore, which produces 95 percent of those available in the market; two are in the US, and one is in the Netherlands.
Florencio says that the rough diamonds created from these laboratories follow the same supply chain as diamonds harvested from mines. For cutting and polishing, they are sent to Israel, Belgium, Russia, China, or India. Afterwards, they are sent to buying offices for sorting, then to laboratories like GIA, HRD Antwerp, and IGI for certification. Finally, they arrive in the shops of jewelry manufacturers and then retailers.
Cultured diamonds are priced according to the principles of the 4Cs just like mined diamonds: carat, color, clarity, and cut. White diamonds are sold 30 to 40 percent less, the yellows are 80 percent lower, the pinks and blues are 90 to 95 percent cheaper compared to mined diamonds.
WORLD'S LARGEST DIAMOND GREENHOUSE
Golcondia, the world's first cultured diamond showroom, is the exclusive distributor of cultured diamonds from IIA Technologies in Singapore. Considered the world's largest diamond "greenhouse," occupying 20,000 sqm of land area, the company produces Type IIA diamonds, the purest kind of diamond on earth. Only less than two percent of the world's mined diamonds are Type IIA.
On average, the facility can produce diamonds ranging from 0.30 to 2 carats. The laboratory can grow up to a 3 carat diamond. "Who knows? Maybe in a few years, it would be possible to grow diamonds in greater sizes like the Hope Diamond. But ultimately, it is still up to nature. The diamond growing greenhouse only provides the environment but it does not control or interfere with the growth process of a rough diamond in any way," explains Florencio.
IIA Technologies has been in the business for the past 10 years, investing heavily in research and development. The company CEO Vishal Mehta and Florencio were classmates at GIA. They've been friends ever since.
A FAMILY OF JEWELERS
Coming from a family of jewelers, Florencio knows what he is talking about. His maternal grandmother Balbina Mathew started the family business, establishing a jewelry workshop in the 1940s until the 1980s. Her clients included family, friends and other jewelers during her time. Florencio's parents, Corazon and Rene, continued the tradition, eventually establishing Rafael Jewelry and Technomarine in the Philippines. Rene also pioneered Moissanite in Asia. After graduating from GIA, Florencio founded T.Florencio Jewelry in Makati Shangri-La Hotel. He also took over his grandmother's jewelry workshop, making it possible for him to create finished jewelry for both T.Florencio and Golcondia. Suffice to say, Florencio took a gamble launching Golcondia December last year. He firmly believes cultured diamonds is the future.
"For me, this is not an alternative. In the long run, [facilities producing cultured diamonds] will replace the mining industry and we will no longer have to explain about cultured versus mined diamonds. They will be one product."
STOP GAP
Industry experts predict that demand for mined diamonds will soon outpace supply due to growing markets like India and China. A recent report by global consultancy firm, Frost Sullivan, also reveals that several key diamond mines have already gone past peak production levels. Labgrown diamonds could just as well be the solution to the predicted gap in the USD20-billion industry.
Florencio admits that the local market still needs more convincing. Most clients still adhere to the romantic notions and supposed history of how diamonds come to be. Never mind that it was a massive advertising campaign in the late 1930s which cleverly established diamonds as rare romantic stones. Florencio, together with Managing Director Daniela San Agustin, is determined and prepared to change mindsets.
"I've been in the diamond industry all my life," shares Florencio. "I am what you can call a purist when it comes to diamonds. I believe that in light of our changing world, even the diamond industry is not immune to the change in mindset and consciousness. What we see here today is an evolution of a product as a response to a market that is more discerning and more socially and environmentally aware." San Agustin adds, "We hope to breathe new life into the diamond industry that has been troubled for so long with controversies and scandals."
TRADITIONAL DESIGNS
To help get their message across and to attract new clients, Florencio and San Agustin are talking with people in the industry as well as influencers. Also, he keeps the designs traditional and simple. Complicated designs might further confuse the client.
When asked what his design inspirations are, Florencio describes his approach as more technical and mathematical as opposed to waxing poetry. "As a jeweler, my design philosophy is hinged on the technical sensibilities rather than an inspiration. Working with gold and diamonds, there are far too many technical issues to make a design both beautiful and wearable. I like jewelry designs that are deceptively simple but beautiful, refined, and elegant," says Florencio.
Currently, Golcondia creates key pieces more than a full collection to keep things traditional. The stud earrings are their bestsellers. "Our focus is to offer essential jewelry pieces that can be worn often. We also have some jewelry pieces that are made to be enjoyed on more formal occasions," says San Agustin. Available cuts are princess, radiant, emerald, asscher, round, and cushion. Colors include pink, yellow, champagne, cognac and red. Golcondia's showroom caters to both direct consumers and jewelers.